Alma Moura and us
We are brothers and descendants of a Lisbon family that has its roots in this city. It was here that we were born, our parents, our grandparents, great-grandparents, and now our children. We know and love Lisbon deeply. But, we love to travel! And it was precisely in our travels that we strengthened our love for Lisbon and found that whenever we left for a new destination, we like to experience the life of the places we visited. The best memory that we can have of a trip does not fit in a bag, but in the heart and the soul. Alma Moura is the materialisation of an old family dream. We want to provide those visiting Lisbon the kind of experience that we appreciate and like to experience when we travel. Welcome to this house. Stay and dive into the unique experience of living in one of the oldest historical districts of the city, the real and charismatic people, and unique places we want to share with you.
Apartments
Located in one of the city's oldest districts dating back to the first dynasty, Alma Moura has 6 apartments of the T0 to T2 typology, housed in a fully refurbished building that retains the original facade with all the beauty of old Lisbon. The decor is of contemporary inspiration, with art pieces by local artists, which give it Portuguese tradition and culture. Each apartment reflects its own personality and spirit, always in harmony with the surrounding architectural features. All apartments have fully equipped kitchens where you can prepare your meals, bed linen, towels, bathrobes and toiletries. The entrance to the apartments is through an outside patio that is both a recreational area, and also for enjoying yourself and relaxing. Comfort is present in every detail.
Services
Our Concierge will be waiting for you upon arrival, and will always be available while you are with us. If you need help to organise outings, book restaurants or buy tickets for a show you can count on his help. We want you to feel like a true Lisbon citizen during your stay, and take advantage of the city in the best way, avoiding the usual travel agency programmes, instead opting to discovery the best kept secrets of this charming city.
Concierge service
To request services, make reservations, schedule special times and dates, we are always available to make your stay as pleasant as possible. Our concierge is an expert on Lisbon, take advantage of this help to plan your custom vacation agenda.
Transfers
We provide a shuttle service, and you can be conveniently transported to our apartments in a family car or van.
Sports Activities
For those who enjoy direct contact with nature and locals, we suggest a few activities that are more radical and sports oriented experiences: hiking or off-road vehicle, rappelling, climbing, cycling, surf clinic or a paragliding jump. Anything is possible.
Mini-Bar
Our apartments have a mini-bar service, and are stocked every day. But if you would like to receive a specific food product "at home", talk to our concierge.
Cleaning Service for Apartments
The apartments are cleaned every 4 days. However, if you want another cleaning regime, we adapt our schedule to your needs.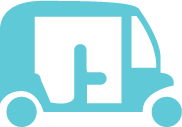 Tuk Tuk
Lisbon is known as the city of 7 hills, and access to many places of great historical, scenic or gastronomic interest is not always easy. Because Lisbon is not only meant for athletes, our partners can pick you up at the door.
Transportation
Outside of the city of Lisbon, but only 20 minutes away, you can also breathe in History, beaches and ocean air, mountain winds, wonderful gastronomy, good viniculture, etc. We provide transport to wherever you desire and dare you to try the itineraries that have been enchanting tourists for years: Sintra, Linha de Cascais, Fatima, Mafra, Tomar, Óbidos, Arrabida, Troia, are some of the places not to be missed.
Wifi
Free Wifi in all apartments
Satellite tv
Free satellite tv in all apartments
RIGHT NEXTDOOR – THE NEIGHBOURHOOD AND THE CITY
Discover the city as it is while staying at Alma Moura. Feel the day-to-day energy. Put your senses to the test and take a stroll through alleys and niches where you will see and hear anonymous popular culture and art manifestations that characterise the city and its people. Walk in to the bars and the typical taverns and taste their snacks. Go do some Portuguese wine tasting and get to know some of the best wines in the world. Browse the local grocery shops, discover the crafts and antique shops that are rich in history and rare pieces. Dine at a fado house and listen to unique voices that are full of sentiment. Discover what "'saudade" " means, here. At Alma Moura, you will be close to everything you can find in tourist maps and guides.
F.A.Q
What does it mean to "not be a hotel"?
It is not a mere variation of words. The difference is precisely in the trip concept that we offer at Alma Moura. We are a local accommodation, which means that we have prepared apartments of many types that are fully equipped to allow you to live in the most ancient and typical area of Lisbon, with the same comfort, flexibility and freedom that you have in your home. While a hotel follows a more or less fixed model of accommodation, at Alma Moura, your stay can be combined with the purpose that brings you to Lisbon, the length of stay in the city and the number of people that accompany you. You will have all the comfort you deserve and will certainly not be bothered by the constant Room Service visits.
What services are included in accommodation prices?
Accommodation includes full cleaning services performed every three days with change of sheets and towels. If you want daily cleaning, contact us. In addition, you can expect concierge service.
Do you plan on staying in Lisbon for a few months, is Alma Moura prepared to receive me?
We have apartments of various types, fully equipped for long stays. In addition to enjoying your furnished, equipped apartment, prepared with sheets, bath towels and a complete toiletries kit (amenities), you may hire a diverse set of domestic services tailored to your needs. Contact us for more information, particularly about special prices for accommodation that we offer for stays longer than 30 days.
Does Alma Moura accept children of all ages?
Yes, of course. Our apartments are prepared to receive families, except for the T1 duplex, that we do not advise for children under the age of 8 years, due to unprotected stairs. It is important that you inform us previously if a crib, a child bed or baby bathtub is needed so that we can ensure that these are available.
How can payments be made?
If you make the reservation directly with us, you can pay by credit card and debit card: Visa and MasterCard. You can also pay by bank transfer. You should grant us pre-authorisation on your credit card upon arrival to cover expenses incurred during the stay or for any damage caused while on the premises.
What is the cancellation policy?
Due to our size, we have a semi-rigid cancellation policy. The cancellations made up to 7 full days prior to the check-in date are free. Cancellations made less than 7 days in advance, will attract a levy of 50% of the booking made. In case of an early checkout date, the unused reservation dates will not be reimbursed.
Reservations
Check-in : from 3:00 PM to 12:00 AM
Check out : until 12:00 PM